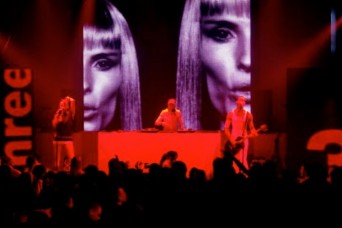 SpectrumPro LED displays are categorised into 2 large groups: Indoor and Outdoor. The products of these two categories differ in the following properties:
Brightness.
Contrast ratio.
Ingress protection.
Power consumption.
Weight.
Maintenance type (front / rear).
Pixel pitch.
Sound levels.
When choosing an LED display, the first thing to consider is the location, i.e. Indoor and/or Outdoor and purpose, i.e. what reason will the display be used for, e.g. will it be stationary or will it have to be mobile. It is also important to consider the content that will be projected on the LED display and the format, which will determine the pixel pitch. Our 10 years of experience in the field will help you to find the answers to these questions.
In this section, we shall discuss the types of indoor SpectrumPro LED displays. We can offer displays as detailed as P0.8 pitch resolution. By connecting display modules of such a high resolution we can create a single display that could be used as a visual wall, video banner, business presentation, among other uses. Considering that the lifespan of LEDs can reach a staggering 100,000 hours, it can be used 24/7 as a visual monitor in control systems.
Black LED technology is used to produce higher contrast, i.e. the display's light emitting diodes are black, while ordinary displays utilise white LEDs. The display is covered with a matte layer to improve video playback. This eliminates reflections of nearby lights, e.g. sunlight, studio lighting, or similar sources of light.
We offer SpectrumPro LED display cabinets (display sizes ranging from P0.8 to P2.5) with precision adjustment systems, which eliminate gaps between modules and ensure the production of a fully identical picture. LED display dot matrices are mounted on magnets, so display maintenance is simple and does not require any additional tools.
Depending on the chosen model, a remote display control and monitoring system may also be included. It allows the user to operate the display from a distance, namely to turn the display on or off, to change its settings, and to receive notifications on inoperative components. The control system allows Dot-By-Dot calibration, which adjusts and synchronises the parameters of all display pixels.
Perform calibration in the following cases:
every several years, if the display is used intensively;
each time display components are changed;
after changing the size of the entire display by adding or removing display modules (the colour characteristics of new displays differ from the used ones).
Specifications of indoor SpectrumPro LED displays:
Pixel pitch: P0.8, P1.2, P1.6, P1.9, P2.5, P3, P3.9, P4, P4.8, P5, P6, P7.62, P10, P12, P16.
Technology: SMD Black LED.
Brightness: up to 2,500cd/m².
Power consumption: 240W/m² or more.
Refresh rate: up to 3,200Hz.
Colour depth: up to 16-bit colour.
Maintenance: Front and Back
Lifespan: up to 100,000 hours.
Operating temperature: +5°C to +40°C.
Our biggest LED project yet was implemented in 2013: a 172-metre long P10 LED banner in the Siemens Arena. This LED banner is the most modern piece of equipment of this type in all of the Baltic States. It is an interactive display screen designed for broadcasting advertisements as well as visual effects during concerts.
The Siemens LED banner can broadcast 9 additional scoreboards and show detailed match statistics: the player's scored points, fouls, etc. The banner can also broadcast animated chants, slogans, and imitate a crowd wave. Interactive animations indicate the level of noise (in dB) and the display keeps a record of the loudest chants. Specialised software allows the LED display to produce 17K resolution video clips!
+ More